PH10M
PH10M (Fully Motorised Probe Head)
Like the PH10T probe head, the PH10M is also a fully motorised probe head that offers immediate indexing from 0° to 105° in the A axis and through 360° in the B axis, in 7.5° increments. The M head, however, incorporates an autojoint with multiwire capability, which is necessary for the SP25M scanning probe. The PH10M probe head can also be fitted with either TP20 or TP200 probes and should be chosen in preference to the PH10T when using these probes if the future use of a scanning technology may be required.
Length

117 mm

Width

62 mm

Weight

620 g

Probe mounting

Autojoint (multiwire)

Head mounting

PH10M PLUS shank to suit CMM

Suitable controller

PHC10-3 PLUS

Repeatability of position

0.4 µm (0.00002 in) specified at a distance of 100 mm

Total number of positions

720

Maximum recommended drive torque

0.45 Nm

Maximum extension bar

300 mm (11.8 in) using PAA3 extension


450 mm (17.7 in) using PAACF special order only extension
TP20 Stylus Modules
A range of seven, application specific, probe modules is available and are identified by coloured caps.
Module
Application
Trigger forces*
Stylus lengths
SF- Standard force


Suited to the majority of applications
XY: 0.08 N
Z: 0.75 N
Stylus: 10 mm
10 mm to 50 mm GF
LF- Low force


Low trigger forces applications - e.g. rubber seals
XY: 0.055 N
Z: 0.65 N
Stylus: 10 mm
10 mm to 30 mm
MF- Medium force


Where a higher trigger force than standard is required
XY: 0.1 N
Z: 1.9 N
Stylus: 25 mm
10 mm to 60 mm
EF- Extended force


Large stylus assemblies or where vibration causes spurious 'air' triggers
XY: 0.1 N
Z: 3.2N
Stylus: 50 mm
10 mm to 60 mm
6W- 6-way


Measurement in the –Z direction - e.g. undercuts
XY: 0.14 N
Z: 1.6N
Stylus: 10 mm
10 mm to 30 mm
EM1 STD- 50 mm extension


Majority of applications requiring a 50 mm extension
XY: 0.08 N
Z: 0.75 N
Stylus: 10 mm
10 mm to 50 mm
EM2 STD- 75 mm extension


Majority of applications requiring a 75 mm extension
XY: 0.08 N
Z: 0.75 N
Stylus: 10 mm
10 mm to 50 mm
Change Rack MCR20
The MCR20 probe module changing rack is designed to securely hold stored modules for rapid automatic changing, and to protect them from airborne contaminants which may be present within the working environment.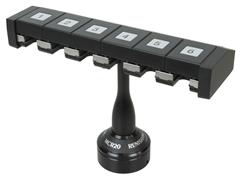 TP200 Stylus Modules
The stylus module is mounted on the TP200 / TP200B probe body via a highly repeatable magnetic kinematic joint, providing a rapid stylus changing capability and probe overtravel protection.
There are three modules available, with two different overtravel forces.
Module

Application

Comments

SF (standard force)

General use.

Styli up to 100 mm long and ball diameter > 1 mm.

LF (low force)

Small diameter stylus balls or where minimum force is essential.

Balls less than 1 mm diameter.

EO (extended overtravel)

Extra overtravel to enable the CMM to stop safely from higher probing speeds.

Same overtravel force as SF.




Extra 8 mm of overtravel in probe Z-axis.
SCR200 Change Rack
The SCR200 provides automatic, high speed changing of up to six TP200 stylus modules. The SCR200 is powered by the separate probe interface, PI 200-3, and provides features to facilitate safe stylus changing. The SCR200 is available in low force and standard force kits, where each kit comprises one SCR200 plus three stylus modules of the same force.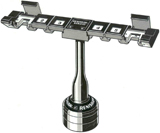 SP25M (Scanning probes system)
At only 25 mm in diameter, and with a range of scanning and touch-trigger modules, the SP25M is the world's most compact and versatile scanning probe system.
The SP25M comprises two sensors in a single housing. Users can switch between a choice of five scanning modules (which can carry M3 styli with lengths from 20 mm to 400 mm) and an adaptor module that is compatible with Renishaw's TP20 range of probe modules. This capability enables scanning and touch-trigger probing in a single probe system.
The SP25M's compact size and autojoint mounting makes it compatible with the PH10M PLUS / PH10MQ PLUS and PH6M probe heads. It can also be mounted on a multiwired extension bar. Together, these combinations permit excellent reach and access to part features.
*For more details of the technology in SP25M, refer to the SP25M product page.